Gevecht tegen griep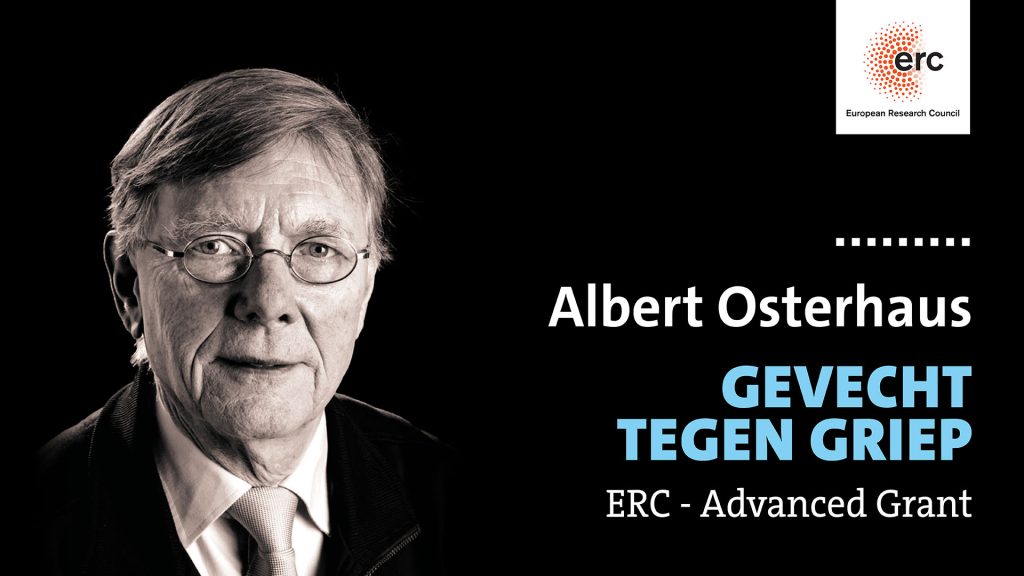 Tijdig nieuwe virussen identificeren om effectieve vaccins te ontwikkelen.
De Spaanse griep die begon in 1918 kostte in de jaren daarop het leven aan 50 miljoen mensen. Het virus dat de ziekte veroorzaakte, ontwikkelde zich in enkele maanden van een niet al te ernstig griepvirus in een levensbedreigend en dodelijk virus. In de dierenwereld zijn voortdurend griepvirussen aanwezig die zich tot een vergelijkbare dreiging kunnen ontwikkelen.
Albert Osterhaus
Albert Osterhaus, van de afdeling Virologie, kreeg van de European Research Council een beurs (ERC – Advanced Grant) voor zijn onderzoeksproject FLUPLAN. Samen met zijn collega-onderzoekers onderzocht hij hoe griepvirussen, die voorkomen in mensen, varkens en vogels, delen van hun erfelijke materiaal uitwisselen waardoor in korte tijd nieuwe varianten ontstaan die èn zeer besmettelijk en zeer ernstig ziekmakend kunnen zijn. Met deze kennis kunnen onderzoekers de virussen identificeren en volgen die kandidaten zijn om in de toekomst een pandemie te veroorzaken. Dit maakt het mogelijk om op tijd gerichte vaccins te ontwikkelen.
Eén van de resultaten van FLUPLAN is een database van griepvirussen die potentieel tot een pandemie kunnen leiden. Internationaal samenwerkende onderzoekers houden deze database voortdurend actueel. Osterhaus ontving een tweede beurs (ERC-Proof of Concept Grant) om te onderzoeken of de database commercieel kan worden geëxploiteerd. Samenwerking tussen de onderzoekers en bedrijven kan ertoe bijdragen dat vaccins voor griepvirussen sneller ontwikkeld worden en effectiever zijn.