EU Patient- Centric Clinical Trial Platform (EU-PEARL)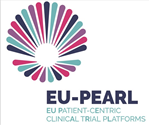 EU-PEARL is a unique public-private strategic partnership connecting 36 world-leading institutions in an effort to develop a multi-compound Integrated Research Platform (IRP), which enables patient-centric drug development and shapes the future of clinical trials in Europe.
The main objectives of EU-PEARL are: 1. To create a reusable, accessible and sustainable modular IRP in Europe working to best practice for the design and execution of patient-centric, multi-compound, multi-company platform trials not limited to one compound or company, in any disease area with the need and capacity to utilize such methodology; 2. To set up the open, dynamic patient inclusive governance structure necessary to deliver the appropriate regulatory, ethical,
legal, statistical and data utilization requirements of the IRP; 3. To build the infrastructure to create a data and clinical network, and the scientific and operational platforms needed for the successful deployment of the IRP; 4.To disseminate and exploit this model for the development of multi-disease, adaptive, platform clinical trials through the provision of the necessary common tools, procedures, expertise and services working to the highest standards and best practices, developed in a consensus-based approach and 5.To create trial-ready IRP networks in the four disease areas of Major Depressive Disorder, Tuberculosis, Non-Alcoholic Steatohepatitis and Neurofibromatosis.
EU-PEARL will shape the clinical trials of the future by making them more patient friendly by design and patient focused by outcome. The developed Integrated Research Platform (IRP) will be established as a sustainable and scalable European and global solution. EU-PEARL will improve societal access to timely and affordable medicines.
More detailed information
Innovative Medicines Initiative (IMI)