T helper 17 cells in sarcoidosis:
From prognostic factor towards therapeutic target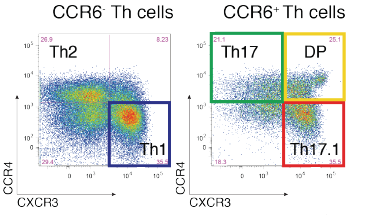 Sarcoidosis is a granulomatous disorder of unknown cause, mainly affecting the lungs. Our recent data strongly indicate a crucial role of IFNγ-producing Th17-lineage cells and CTLA-4 in sarcoidosis pathogenesis. This project aims to investigate CCR6+ Th17-lineage subsets in an unbiased, premeditated manner in sarcoidosis patients that undergo disease resolution, become progressively ill and healthy controls. We will evaluate whether the phenotype of Th17-lineage cells is sarcoidosis-specific or disease overarching, examining Th17-cells of severe asthma patients.
This program will provide crucial insight into pathological role of Th17-lineage-cells and CTLA-4 function in sarcoidosis pathogenesis and other Th17-cell mediated (lung) diseases. This may result in development of novel personalized steroid-sparing treatment regimens.
More detailed information
Longfonds /
Dirkje Postma Talent Award