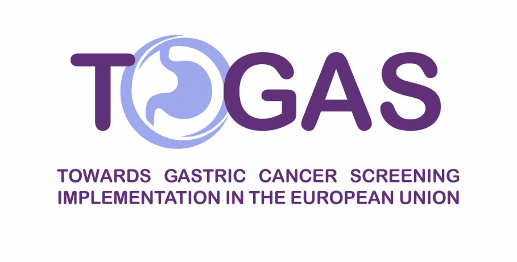 No effective screening modality to prevent gastric cancer is available in Europe. Elimination of helicobacter pylori bacteria is expected to decrease mortality by 40%; another early approach is the detection of precancerous lesions for surveillance. The general objective of TOGAS is to provide the missing evidence-based knowledge to be further transferred to design plans and implement appropriate gastric cancer prevention across the EU.
TOGAS has three specific objectives:
Assessment of the state of play as well as the needs of MSs and target populations in gastric cancer prevention, including information on 'opportunistic' screening initiatives organised in public and private settings
Assessment of the appropriateness of various gastric cancer-screening modalities for the use in the EU
Assuring the sustainability of the results by an effective dissemination strategy and coordination of the methodology with the approaches used within the EU, including with the European Guidelines and Quality Assurance Schemes.
The results from this project will aid policy makers in incorporating gastric cancer screening into their healthcare priorities while balancing its effectiveness, feasibility, and acceptability with long-term potential adverse effects. To disseminate project results widely, TOGAS will organise three highly visible conferences inviting the key stakeholders and MS representatives, as well as a high-level conference together with other cancer screening projects.
More detailed information
dr. Iris Lansdorp-Vogelaar
Maatschappelijke gezondheidszorg