Screening op hart- en vaatziekten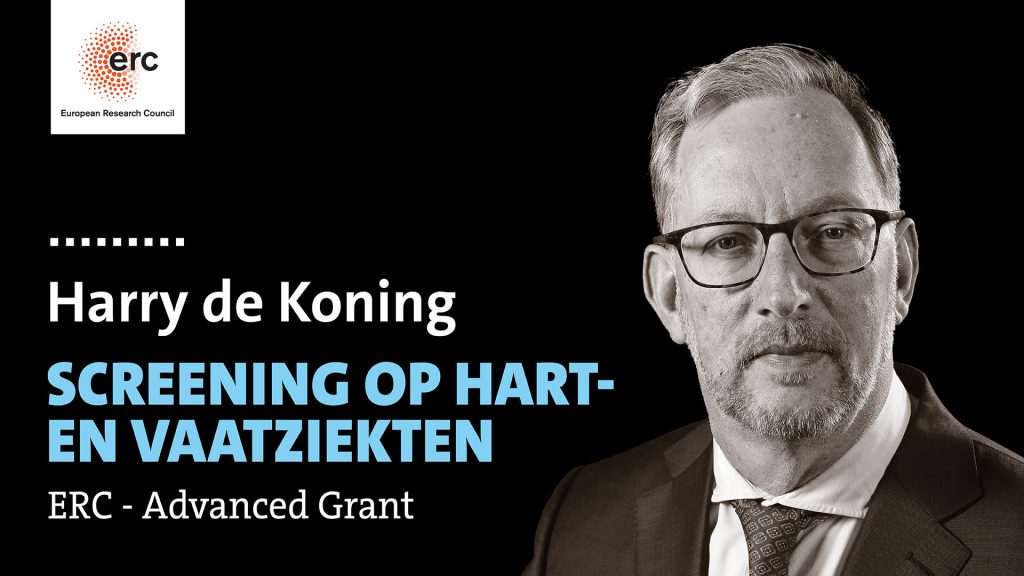 Gezondheidswinst door vroege opsporing en behandeling
Hart- en vaatziekten zijn een belangrijk gezondheidsprobleem. Of iemand een verhoogd risico heeft, wordt tot nu toe bepaald op basis van de bekendste risicofactoren, zoals leeftijd, bloeddruk, cholesterolgehalte, diabetes en roken. Onderzoekers hebben steeds meer aanwijzingen dat de mate van verkalking van de kransslagader van het hart een veel betere voorspeller is.
Screening op hart- en vaatziekten is een veelbelovende preventie- maatregel. Door onder grote groepen mensen systematisch op te sporen wie een verhoogd risico heeft, kunnen deze mensen samen met hun arts maatregelen nemen om hart- en vaatziekten te behandelen of vertragen.
Harry de Koning
Harry de Koning, van de afdeling Maatschappelijke Gezondheidszorg, kreeg van de European Research Council een beurs (ERC-Advanced Grant) voor zijn onderzoeksproject ROBINSCA. Samen met zijn collega's vergelijkt hij de resultaten van screening door middel van de traditionele risicoschatting met het meten van een kalkscore in de kransslagader met een CT-scan.
Aan het onderzoek doen zo'n 39.000 mensen mee. Deelnemers die volgens de onderzoeken een hoog risico hebben op hart- en vaatziekten worden doorverwezen naar hun huisarts en preventief behandeld. Gedurende vijf jaar worden de deelnemers gevolgd, zodat de onderzoekers ziekte en sterfte aan hart- en vaatziekten met elkaar kunnen vergelijken.