(EarlyCause) Causative mechanisms & integrative models linking early-life-stress to psycho-cardio-metabolic multi-morbidity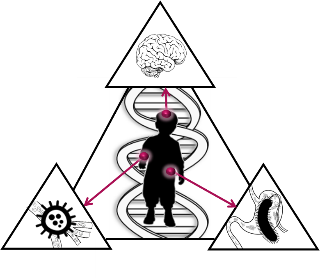 Exposure to early-life stress (ELS), such as prenatal adversity and childhood maltreatment, is a known risk factor for mental health problems, including depression. Recently, studies have found that ELS also increases risk for a range of physical disorders, such as cardiovascular disease and diabetes. Despite the fact that depressive, cardiovascular, and metabolic disorders are highly comorbid, little is known about the role of ELS in their co-occurrence, and what biological mechanisms are involved. The aim of EarlyCause is to investigate the relationship between ELS and the development of psycho-cardio-metabolic (PCM) multi-morbidity across the lifespan. By integrating data from humans, animals and cellular models, EarlyCause will also identify the shared mechanisms through which ELS becomes embedded at biological level, focusing of four key pathways: epigenetic alterations, neuroendocrine dysregulation, inflammation, and the gut microbiome. Finally, the impact of lifestyle factors will be examined, in order to inform intervention targets that may reverse the causative mechanisms and/or reduce the impact of ELS on multi-morbidity development in high-risk individuals. The project is part of a large European-funded consortium, involving 13 institutions from eight countries.
EarlyCause will explore new territories at the interface of fundamental and clinical research by addressing the medically important question of how ELS biologically impacts PCM development. This will provide a rich series of translational research lines for targeting prevention, diagnosis, prognosis, therapy development, and management of PCM.
More detailed information